Please Join Me In Praying For Tuesday

I have been so deeply touched by this family's story and my heart breaks as they struggle with the news that their child's cancer treatments have not been successful. Tuesday's cancer has doubled in size in less than a week and has been deemed "no longer chemo sensitive."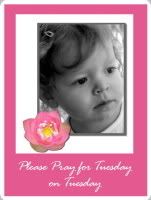 This family has been through so much. Please pray for beautiful Tuesday and her family.